The Knobstone Hiking Trail is a 160-mile trail along the landmark Knobstone escarpment in one of the most rugged and scenic areas of the South Central Midwest, on the high bluffs of the forested corridor between Indianapolis, Indiana and Louisville, Kentucky. Two completed sections, Tecumseh (north, 42-miles) and Knobstone (south, 45 miles) soon will be extended another 28+ miles. There is good access and parking at 10-20-mile intervals, ideal for day hikes and backpack camping. No fees, reservations, or permits are required. Shuttles are available to connect Pioneer (central) trail miles, and for one-way hikes of sections.
The Knobstone Hiking Trail Association (KHTA) was formed in 2013 to become the steward of this great trail. The KHTA is a non-profit organization dedicated to completion, preservation, and promotion of the KHT. We depend on Association members and volunteers for its very existence. Only a part of it is on public land maintained by government agencies. Trail conditions are dependent on hiker reports and volunteer action in response to them. The KHTA is the only source for maps and information about the entire trail. Won't you join us? 
Find us on Facebook and Meetup.com!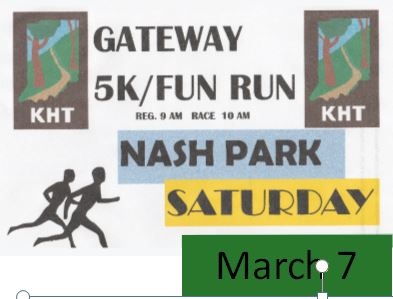 The March 7th Gateway 5K / Fun Run
For Event Details Click here!
To Register Click on March 7th Gateway 5K 
Mission Statement
"The KHTA is dedicated to the completion, preservation, and promotion of the Knobstone Hiking Trail. This footpath follows the Knobstone Escarpment from 30 miles south of Indianapolis to 10 miles north of Louisville, KY. A long-term management organization for the trail assures continuity of assistance in maintaining the trail to the governmental entities whose jurisdictions the trail passes through as well as to private property owners donating trail easements."