Gateway 5K Fun/Run – Nash Park, 360 North Home, Martinsville, IN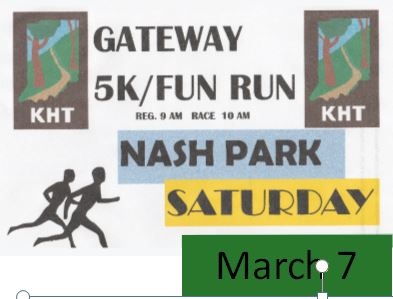 • Martinsville is the "Gateway to the 160-Mile Knobstone Hiking Trail"
• The race will run on the 2.5-K Nash Trail  within the park.
• Registration 9-9:45 am at Family Pavilion. Hot drinks & snacks.
• Race Start 10 am. Post-race snacks and hot drinks in Family Pavilion.
• Race donation: $20; single ticket admits families & couples benefit the KHTA's effort
to complete the trail
• Sponsor: Knobstone Hiking Trail Association, working to complete the 160-mile KHT,
extending it from Martinsville to Louisville.
To register: http://www.knobstonehikingtrail.org/register-for-the-2020-khta-gateway-5k-run-walk/
MONTHLY 2ND SATURDAY KHT WORKDAYS
The Knobstone Hiking Trail is a work in progress. Miles still need to be acquired, and many more need to be built and maintained. Volunteers of the KHTA are needed to accomplish this. You can join in this rewarding work by helping on a KHTA monthly 2nd Saturday work crew (February—November). Membership is not required. Crews are led by experienced trail builders. TO SEE WHAT IT'S LIKE:


TO SIGN UP FOR THE NEXT TRAIL WORK CREW GO TO:

KHTA ANNUAL MEETING, 3rd Saturday in March
KHTA NATIONAL TRAILS DAY HIKE, 1st Saturday in June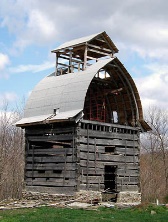 The KHTA sponsors a hike the first weekend in June featuring a section of the KHT (sometimes on Sunday). A favorite is the Easement loop just south of the Monroe Reservoir Hoosier National Forest section of the Pioneer Trail. It passes the pioneer barn restored by Frank Fisher (photo) near Mile 68. For details about the exact date, time, and location of the next hike, go to

KHTA ANNUAL FALL BACKPACK, 4th weekend in October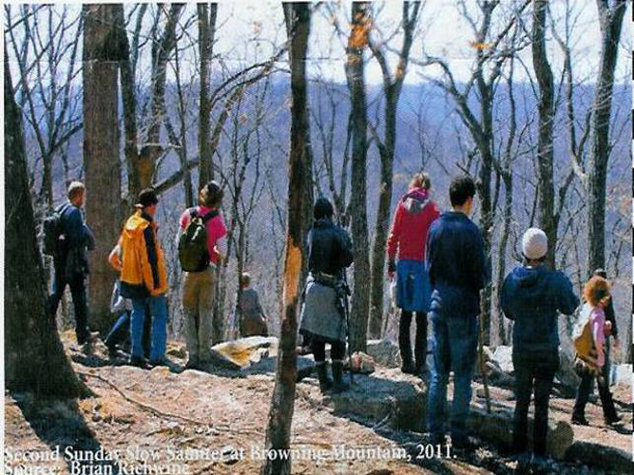 This event often features Browning "Mountain", the iconic Hoosier National Forest site on a provisional Pioneer section of the KHT. It's about Mile 52, where the trail crosses one of the forks of Salt Creek dammed in 1965 to form Monroe Reservoir.
A view of the broad Salt Creek valley is visible in winter (photo) from this high knob–only a Hoosier could call it a mountain. But it's still a grand view, in the largest area in Indiana of land uncrossed by roads. In spring, the elegant blossoms of dogwood trees interfere with the view… Offered in conjunction with Hoosier Backpackers [see Hiking Groups in Resources]; base camp with multiple day hikes. Closest nearby towns: Bloomington, Nashville, Story.
Access is available from the southern Tecumseh Trailhead on Crooked Creek Road off SR 46, from Story at the HNF Nebo Trail parking lot or further south from the foot of the hill at the Monroe Reservoir's edge if the water is not high, or from a back way, accessible via Tower Ridge Road. For further information, check 

or Contact Us.