KHTA VOLUNTEERS
There are many ways in which you can help realize the dream of the 160 mile KHT.
TRAIL ANGELS offer assistance to hikers needing help in arranging thru-hikes of the entire 150-mile KHT. Transporting packs on road walk sections, or arranging to help with re-supply are the kind of help needed. Contact Us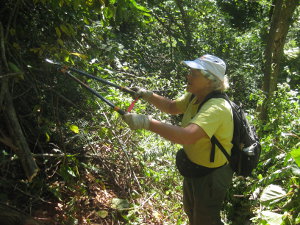 TRAIL ADOPTERS take on responsibility for monitoring and upkeep of 1- to 3-mile sections of trail. Volunteers walk the trail on a quarterly basis to prune brush, clear obstacles, remove debris and litter, and report trail conditions. For fallen trees requiring chainsaw work, the KHTA will provide assistance. Monitors use an evaluation form to record trail conditions and submit it to the KHTA Adopt-a-Trail Coordinator.
SECOND SATURDAY TRAIL BUILDING CREW  builds new trail from 9:30 am to 3:30 pm on the 2nd Saturday of the month.
PUBLIC RELATIONS developed materials and present our mission and vision to the public.
FINANCIAL DEVELOPMENT help to raise funds.
OFFICE maintains our records and answers inquiries.
EASEMENT WORK  research and acquires new easements.
To volunteer fill out an online form KHTA Volunteer Form
To find out more about responsibilities, training, and how to sign up for a section, contact the KHTA Volunteer Coordinator: