bsntech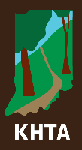 KHTA 1st ANNUAL MEETING
MARCH 15, 2014
LUTHERAN HILLS CHURCH CAMP
Main Hall: 6371 Bear Creek Rd.
(just north of Trevlac off SR 45)
(Open to members and the general public)
1:00 Optional 1 & 2-hour hikes: easy, to the Tecumseh Trail and Fox Den trail shelter.
3:00 Program: First Year's Achievements and Serious Business: Vote on important new KHTA initiatives!
3:30 Speaker: Jerry Pagac, originator of the Knobstone Trail, working through the 1970s. After a distinguished career spent managing state parks and forests in both Indiana & Illinois, Jerry will return to tell us how he did it.
5:30 Pitch-in Dinner: Main dishes and all table service provided. Please bring side dish, drink, or small dessert. Last minute decision? Just show up!
For more information or directions, or to volunteer help with the meeting,
call 765/349-0204 or email: KobstoneHikingTrailAssociation@gmail.com